【Future】OCare Water Flosser_manual
Contents List
OCare Water Flosser X 1
U-shaped Nozzle X 1
Inverted L-shaped Nozzle X 1
Type-C Charging Cable X 1
Storage Bag X1
Product Specifications
Product Material: ABS, PC, Aluminum Alloy
Size: Fold 162x74x40 mm
Unfold 237x74x40 mm(The above is the size without nozzle)
Mouthwash Concentration: 0.5ppm
Mouthwash Manufacturing Power: 0.6w
Water Tank Capacity: 180ml
Rated Voltage: 3.7V
Rated Power: 5W
Charging Method : Type-C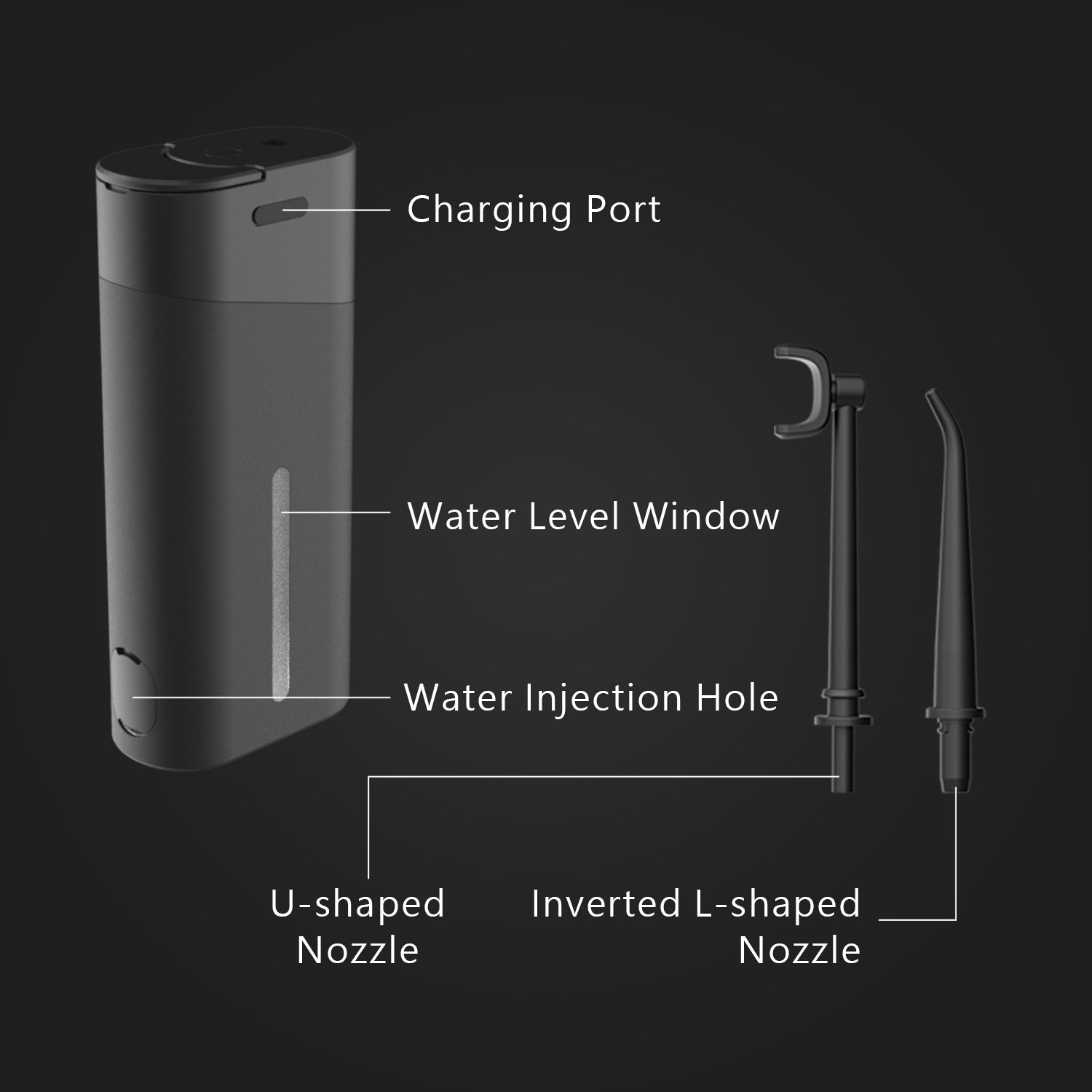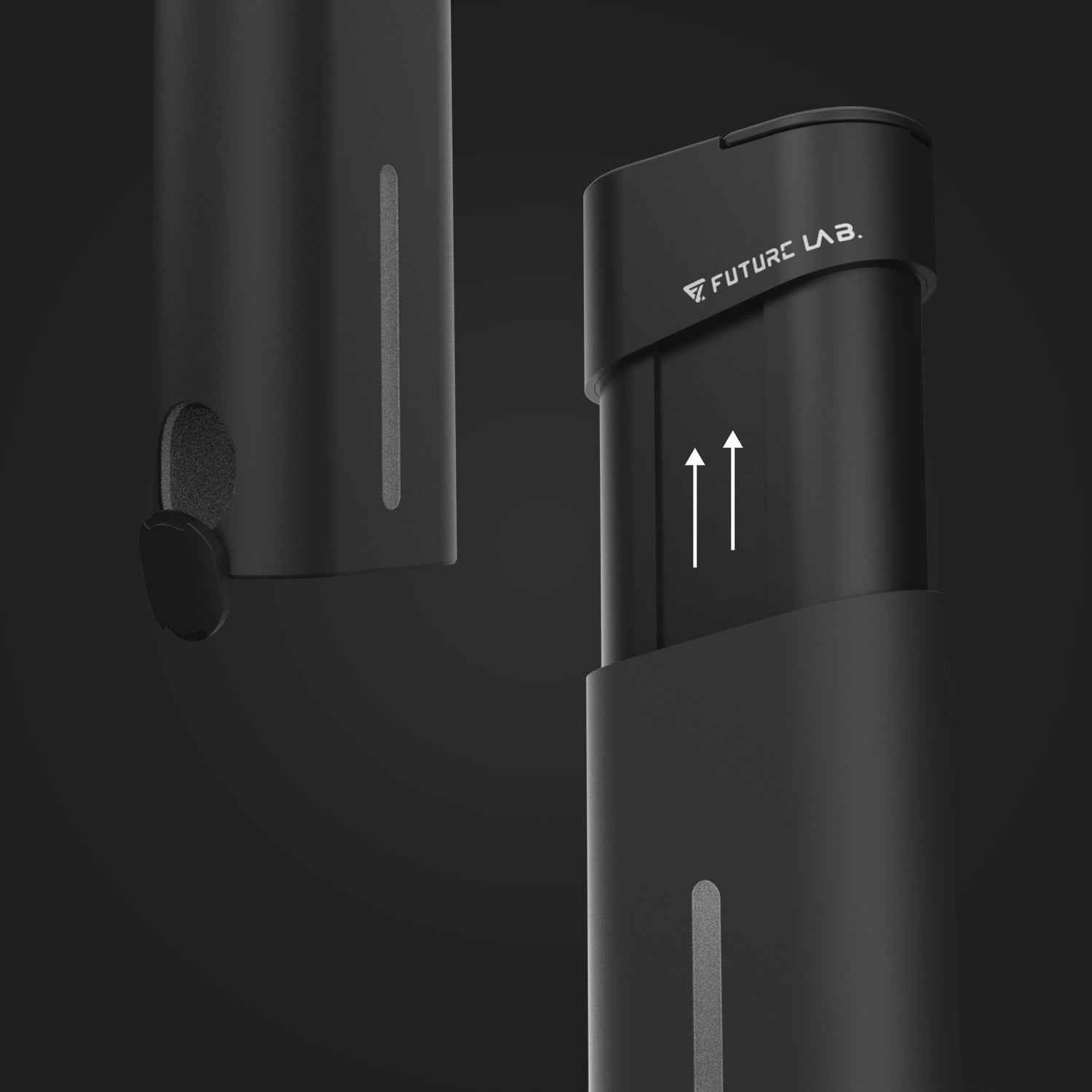 Select the nozzle to be used and install it to thenozzle connection hole.Inverted L-shaped nozzle:Clean between teeth andgumsU-shaped nozzle: Tooth cleaning without blind spotin all directions
Please open the water injection hole of the watertank, and then pull the water tank upward to fill inwater. (As Figure Showed)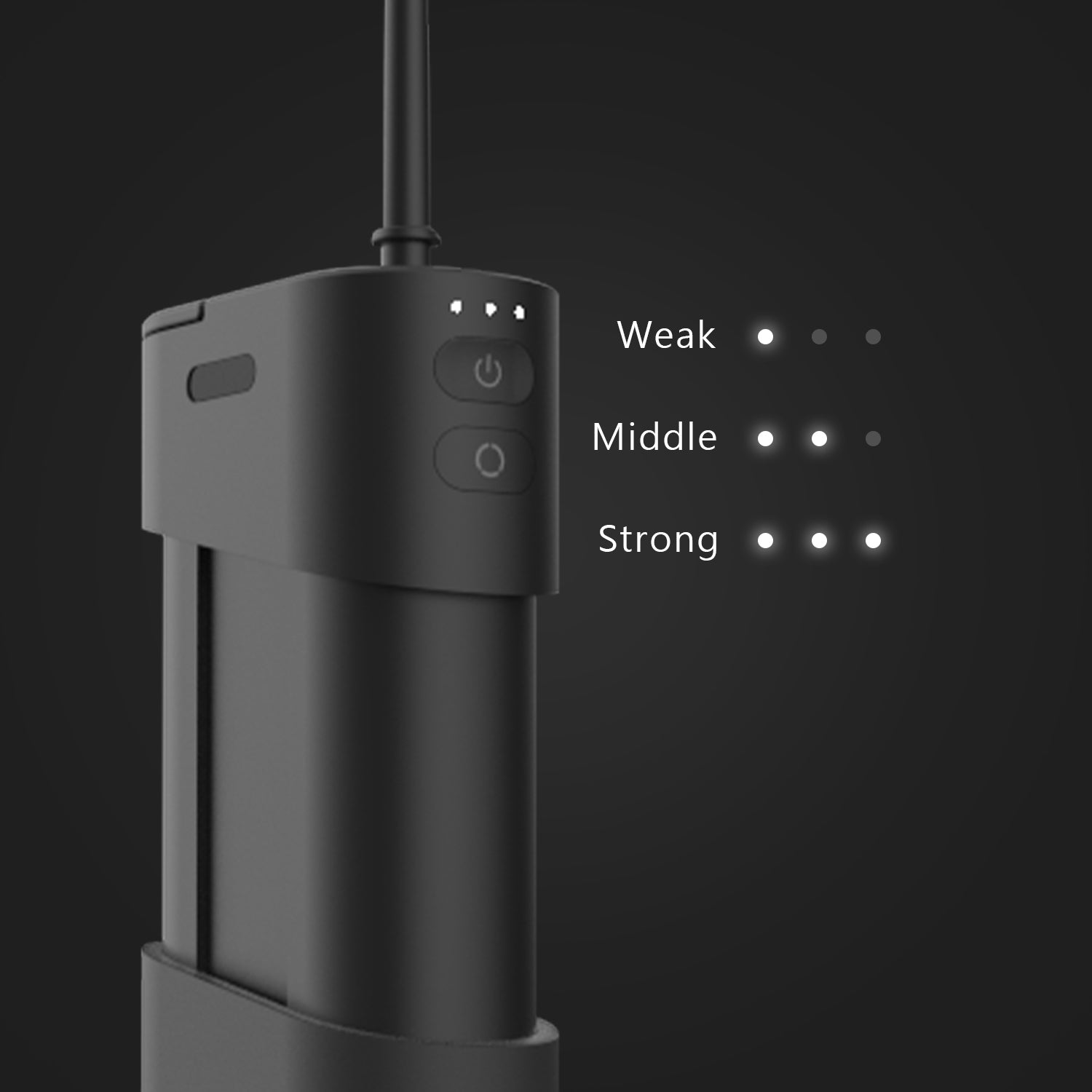 Press and hold the water ejection button for 2 seconds to start the mouthwash production, and let it stand for one minute to complete the production.
(The light is displayed as a blue breathing light during the production process. If the water in the water tank is insufficient to start production, it will be displayed as a red flashing light.)
Select the required water strength. The intensity indicator is shown in the figure.
Place the nozzle into the mouth aim it at the area that needs to be cleaned.
Press the water ejection button to start using the product.
When charging, the indicator lights will the breathing light from left to right according to the battery status, and light up when the battery is fully charged.
The indicator light will flash when the battery is less than 30%.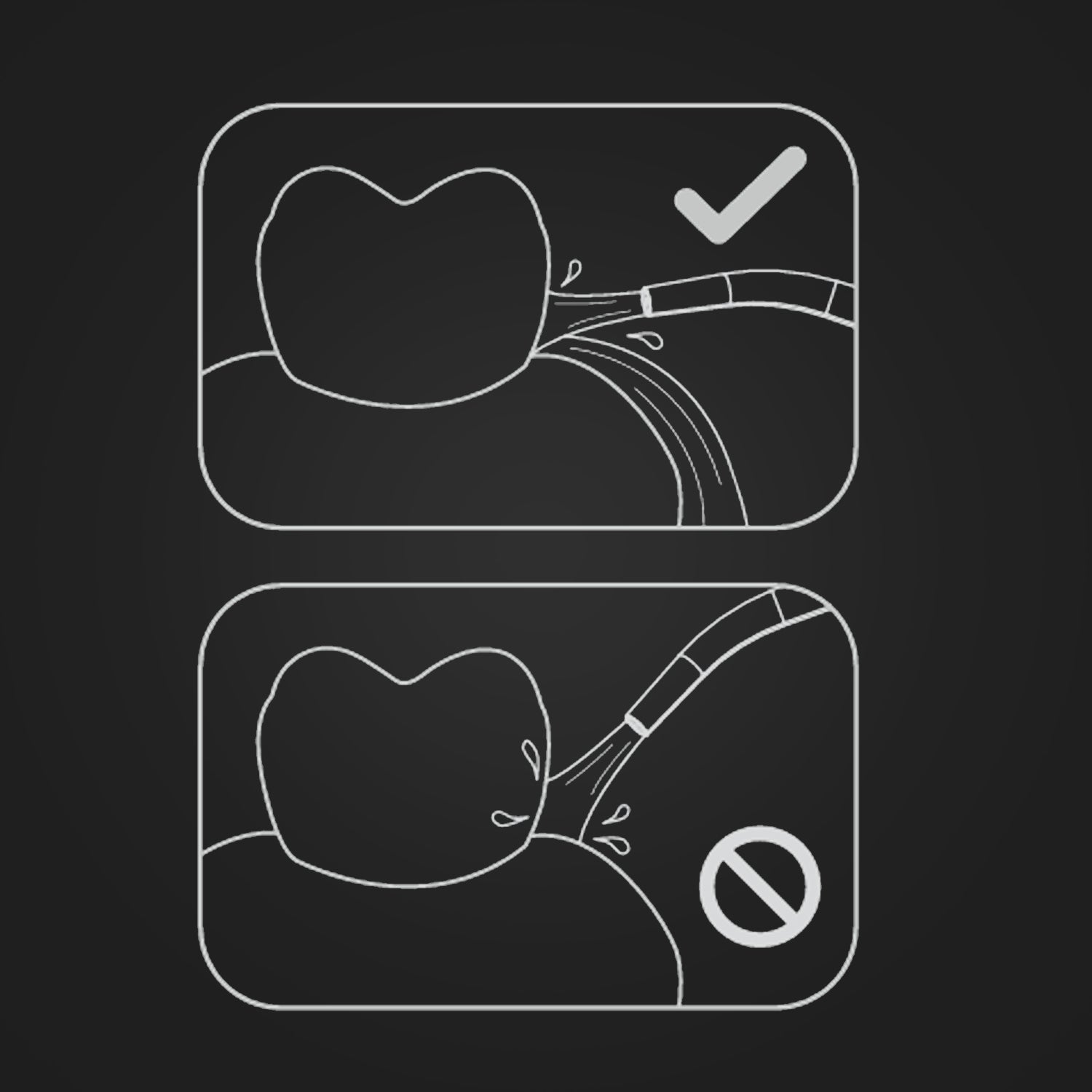 How To Clean The Mouth - Inverted L-shaped Nozzle
Make the water jet as vertical as possible to the gap between the teeth or the edge between the teeth and the gums.
Slowly move left and right along the teeth.
If you wear braces, strengthen the cleaning of theteeth and the area around the braces.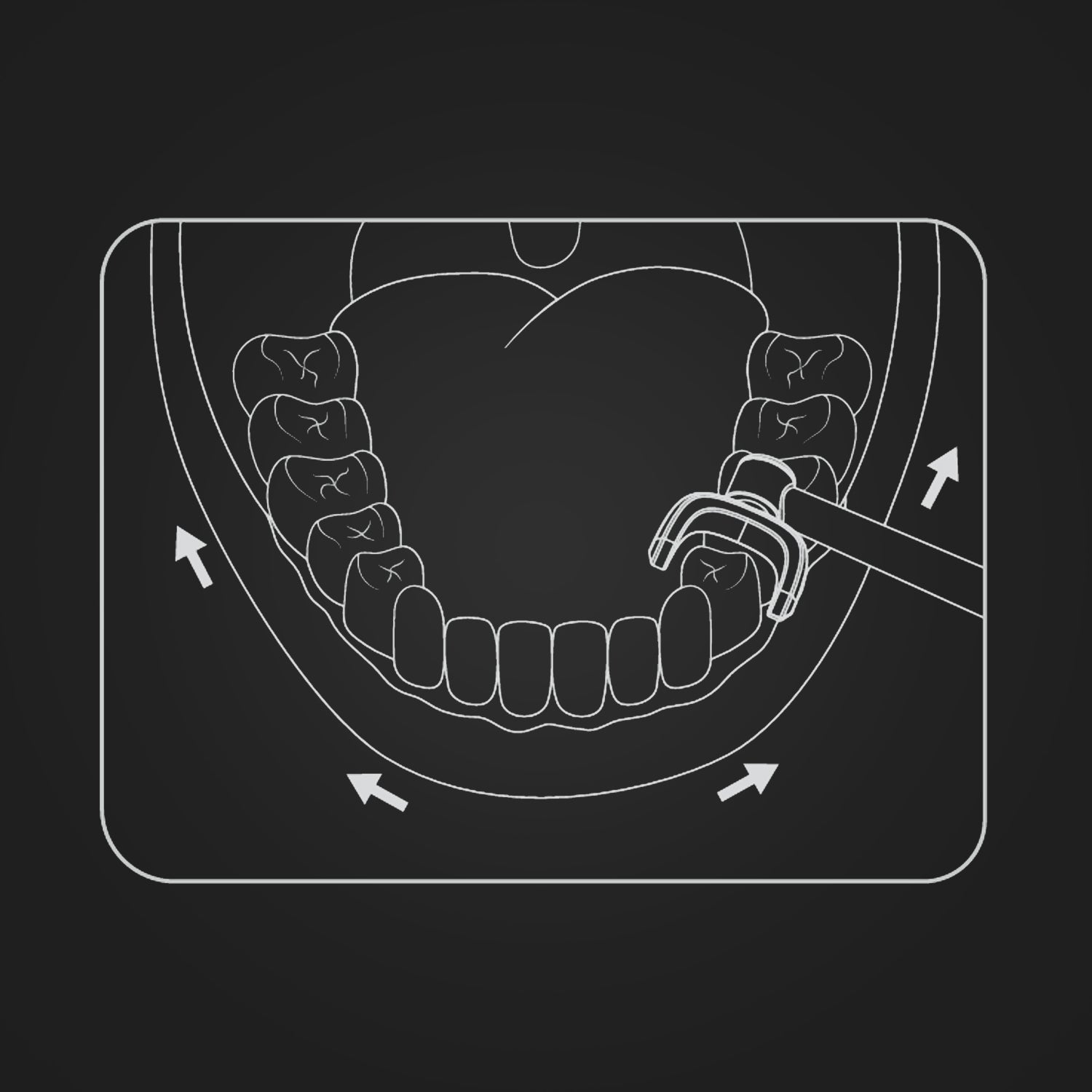 How To Clean The Mouth - U-shaped Nozzle
Cover the teeth in all directions with the U-shaped nozzle.
Freely move the U-shaped nozzle to thoroughly clean the gap between the teeth.
Precautions
The mouthwash made by this product is for mouthwash only. Please do not drink it directly.
Do not add liquids other than water into this product to avoid damage to the product.
Although the product has a moisture-proof function, it cannot be washed directly with water. It is recommended to wipe the outside of the product with a damp cloth, and then wipe it with a dry cloth to clean it like ordinary electronic products. Please keep the appearance of the product clean so that the product function will not be affected.
For oral cavity cleaning, please do not fill water above 40°C into the water tank to avoid burns and prevent damage to the product.
Please do not disassemble or change the parts of the product privately to prevent electric shock or damage to the product. The warranty will be invalid if the product was disassemble privately.
Please do not put the product into fire or heat, and do not charge or store the product under sunlight or in other high temperature or humid places.
Accessories and consumables are not included in the warranty service.
Please do not use this product in poor physical and mental conditions or allow children to use the product alone.
In order to make sure that there are good user experience, no hazard to user and no lost for others' properties, please do not change the way of product's usage. Please firmly follow all the instructions above.