【Future】Nion2 Negative Ion Comb_manual
Contents List
Negative Ion Comb x 1
USB Type C charging cable x 1
Storage bag x 1
Cleaning brush x 1
User manual x 1
Warranty card x 1
Product Specifications
roduct Material: ABS PC Aluminum Alloy
Product Size: 215*44*36.5mm
Product Weight: 250g
Power Input: 5V 2A
Rated power: 40W
Battery Capacity : 1600mAh
Released Negative Ion : ≥2 million
Charging Time : 3 hours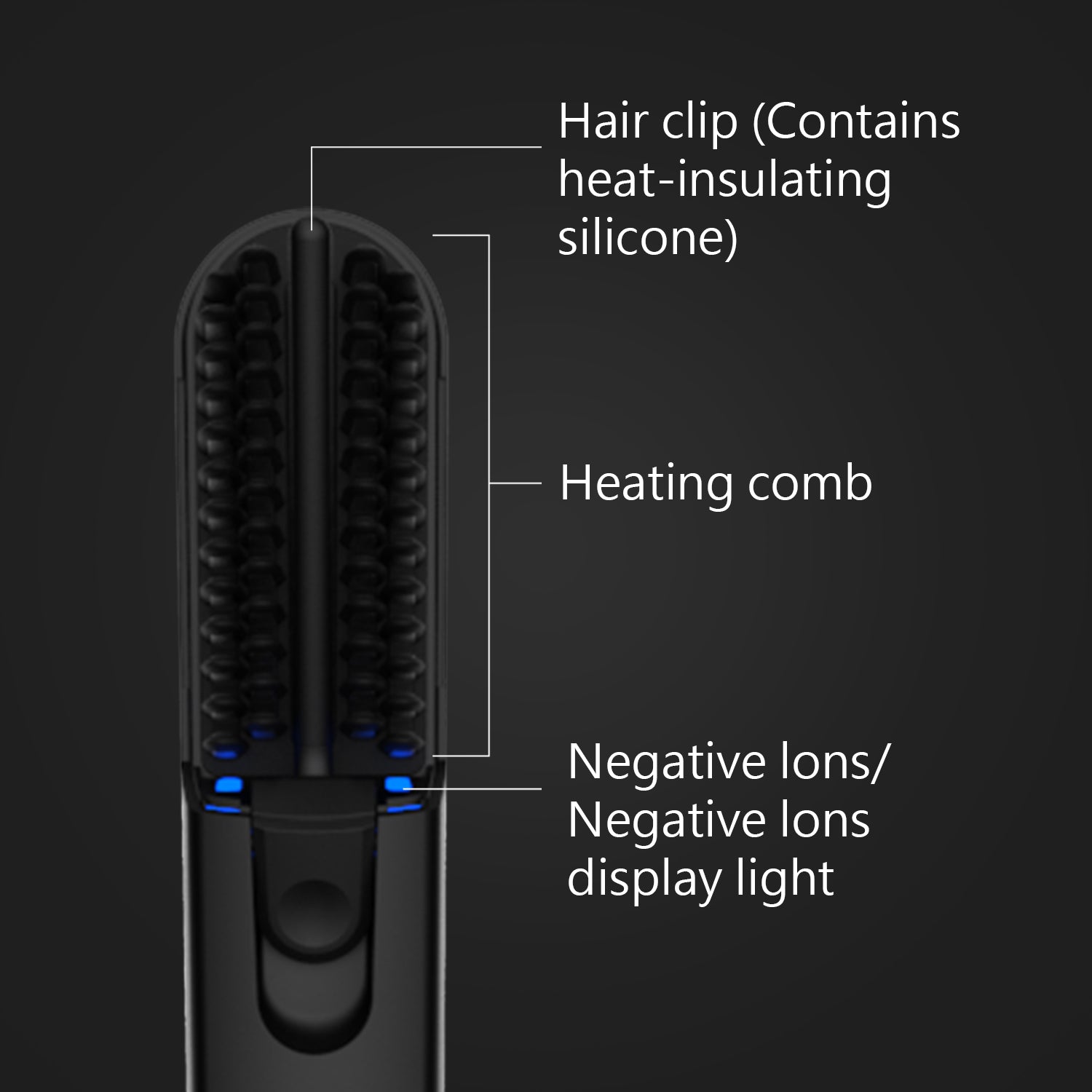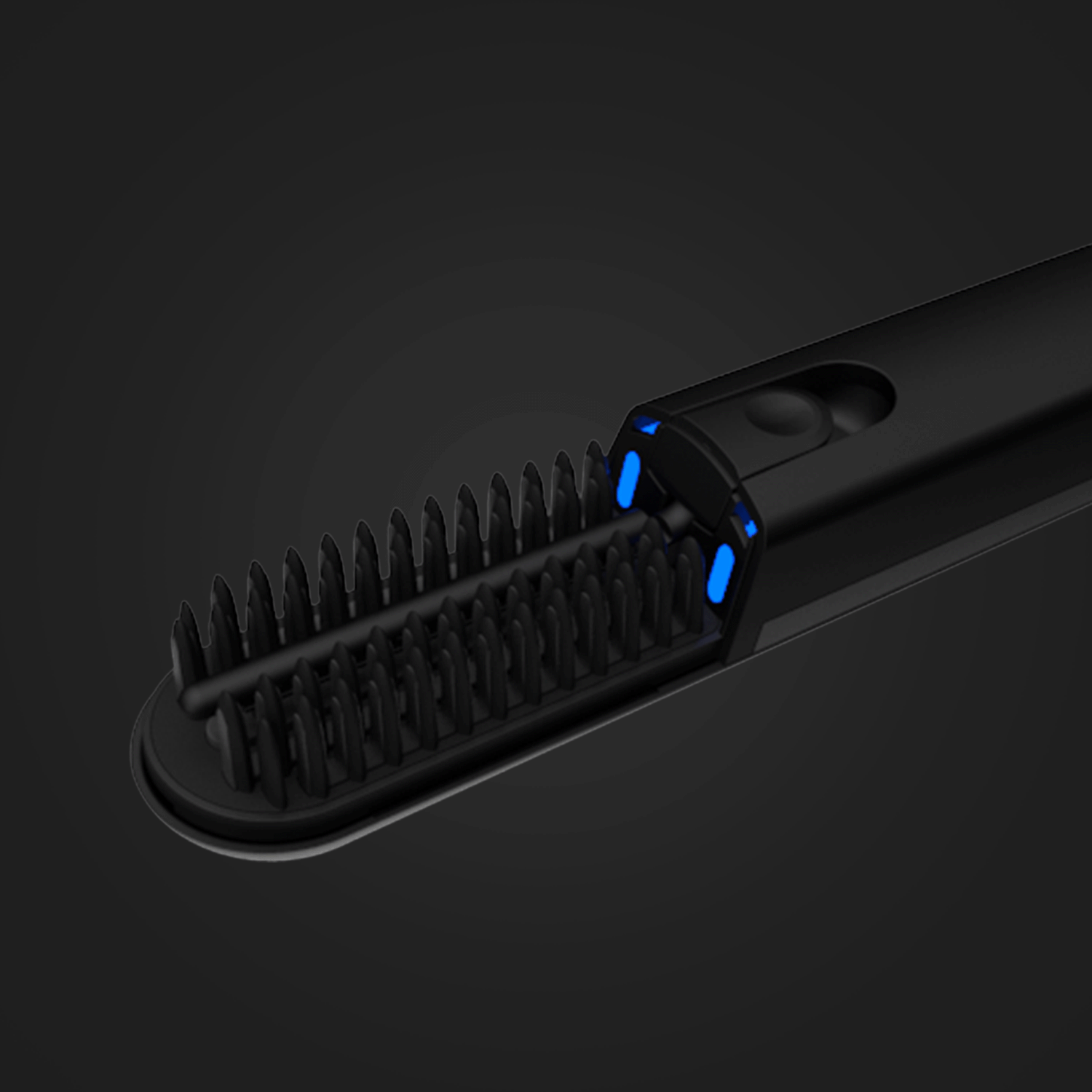 Hair Clip Operation
Press the hair clip button.
Hair clip lifted.
Usage Instructions
Press and hold the power button for 3 seconds toturn on/off.
Upon activation, the negative ion function will beturned on automatically, and it will start heating to thepreset temperature (100°C).
Press +/- buttons to adjust the temperature, thereare a total of 7 temperature settings: 000, 100, 120,140, 160, 180, 200 °C.
For negative ion mode without heating, set theproduct to 000°C.
A blinking temperature number indicates the comb isheating up; After heating up to the preset temperature, itwill stop blinking and the light stays on.
During charging, the displaying will show running000. After charged, it will turn into a constant light.
During charging, the isplaying will show running000s. After charged, it will turn into a constant light.
The product has a built-in hair comb clip for bangsand curls. etc.
Cleaning and Precautions
When using the product, please do not use hairstyling products, such as hair gel, hairspray, hairwax, etc, to avoid chemical residues in the hair combcausing damage to the product.
Please use the cleaning brush to clean the haircomb regularly to avoid functional failure and damage to the product.
Please use a dry cloth to wipe the exterior.
Please make sure the product has completely cooled down before storage.
Please avoid direct skin contact with the hot surfaceof the product. Especially keep away from eyes, ears, face, and neck.
Please be aware of the contact surface when using the product/cooling it off.
Do not place the product in an environment with high temperature/humidity.
Please keep away from flammable and explosive objects when using.
When using this product for the first time, there may be a slight burning smell or a little smoke, which is generated by the high temperature of the oil residue left in the machine after cleaning and will disappear after a few seconds, which is normal, please feel free to use.
Please make sure that the product is placed in a stable condition to avoid damage from slipping.
Please do not repair, disassemble or modify the product. If the product malfunctions, please contact customer service to assist.
This product IS NOT waterproof. Please do not use in bathrooms or other humid environments.
Do not use erosive chemicals, detergents, and cleansers during the cleaning process.
Consumables and accessories are not covered by the warranty.
Please do not use this product in poor physical and mental conditions. Do not let children use this device without adult supervision.
To ensure a better experience, prevent physical/fi-nancial loss of the user and others. Do not deviatefrom the suggested usage, and be sure to read and follow the precautions listed above.
限用物質含有情況標示聲明書